Bet you didn't see this coming so quick!  This installment features the latest offerings from Marvel Studios, the latest take on the King of Monsters, the most exhaustive release of the modern Star Trek mythos, several tv series, a found footage Bigfoot movie and more!
 Fire up that queue and prep that shopping cart. It's that time of the week.
Captain America: The Winter Soldier
Disney/Marvel / Released 9/9/14
Following the battle of New York, Steve Rogers, a.k.a. Captain America, is living quietly in Washington, D.C. and trying to adjust to modern life. But when a S.H.I.E.L.D. colleague is attacked, Steve is caught in a web of intrigue that threatens the entire world. Now Captain America, Black Widow and the Falcon must join forces to overthrow their insidious enemy's most mysterious and powerful "weapon" yet - The Winter Soldier. Extras include featurettes, commentary, gag reel and deleted scenes.

Last Word: The First Avenger is back in his blockbuster sequel, joining Iron Man and Thor for in-between The Avengers movies solo ventures. Chris Evans is back as Captain America Steve Rogers, and in contrast to the introduction of the character, the movie is set in present day, after the events in New York in The Avengers.  Flashbacks occur to move the story along, and are welcome callbacks to the WWII story of Cap and Bucky vs. Hydra, but there is much more going on with Nick Fury (Samuel L. Jackson), Black Widow (Scarlett Johansson), Maria Hill (Cobie Smulders) and introducing Sam Wilson as Falcon (Anthony Mackie) as the Scooby Gang of espionage S.H.I.E.L.D. is on watch.

Former Community/Arrested Development producer and director team Anthony and Joe Russo add humor to the mix in a subtle way, but more importantly pack so much action and tension into this chapter of the Marvel Cinematic Universe that we hope to see more from them with Cap 3. While closest to Iron Man conceptually, the flavor of this Marvel Movie is all espionage Cap and Secret Avengers—a combination sure to make comics fans as well as Avengers fans excited, intrigued and headed to the theatre more than once for a taste of this non-stop action. This is certainly the most meaty of stories and filled with the most Avengers since the franchise took off.

Nick Fury and Black Widow have a lot of screen time, and introduction of Stan Lee and Gene Colan's Falcon as Captain America's wingman makes for a great team. While this is still a superhero movie, we are taken to the world that Ed Brubaker established in his run on Cap. Throw in the main, practically unavoidable spoiler that Winter Soldier is in fact Cap's erstwhile partner in justice Bucky Barnes (Sebastian Stan) and you have a complicated past mixed with a technologically advanced future. The Capsicle humor is kept to a minimum, as in these past months Rogers has been catching up on the Internet, music, and even 1983's War Games. In fact, he carries around a list of things he needs to catch up on (including Star Wars/Trek, Nirvana, I Love Lucy).

I probably don't need to mention this but the cast is in amazing shape and looks sexy all around, making the two girls next to me titter every time Mackie was on screen as Falcon and Stan revealed himself behind his Winter Soldier mask. Yes, Evans kept the pecs from the Super Soldier serum. Are they selling that at Walgreens yet? ScarJo, Smulders, Emily VanCamp (Agent 13) are not only knockout gorgeous but also kick ass as well, transforming these ladies from bombshells to real action heroes! Robert Redford plays Alexander Pierce, a S.H.I.E.L.D. higher up at the head of a Helicarrier program INSIGHT, meant to keep the world safe. As they say with absolute power, he is somehow corrupted and the plans go astray.

Counting in some other notable Marvel 616 cameos are S.H.I.E.L.D. S.T.R.I.K.E. team head Jack Rollins (Callan Mulvey) as well as opening sequence bad dude Georges Batroc (Georges St. Pierre). The expert in savate, a French form of kickboxing, Batroc the Leaper gives Cap one of the coolest choreographed fight scenes we've seen on screen in a while (on par with TV's Arrow) and great service to the Marvel fanbase. Keep an eye out for Easter Eggs and clues about the other movies (no, not the post-credit sequence, but if I need to tell you to stick around you are headed to the wrong movie!). For the first time, Marvel's goal seems to be working, to have these properties all intertwine and exist on the same plane. From Agents of S.H.I.E.L.D. to the big screen, we have certain elements and familiar looking structures. Though we won't likely see the Triskelion on Agents of S.H.I.E.L.D., you may see some agents with familiar faces, or at least uniforms.

A subtle note tying Black Widow to Hawkeye is a diamond arrow pendant around her neck. There has to be more so keep those peepers glued open for this flick, you won't want to miss a thing!  The action was real, explosions and hand to hand combat as opposed to sci-fi or magic. And finally, it just looked great and felt like the comic book movie we've been waiting for as fans since the beginning of time. (– Clay N Ferno)
Godzilla
Warner Bros. / Released 9/16/14
In this gritty, realistic sci-fi action epic, Godzilla returns to its roots as one of the world's most recognized monsters. Directed by Gareth Edwards and featuring an all-star international cast, this spectacular adventure pits Godzilla against malevolent creatures that, bolstered by humanity's scientific arrogance, threaten our very existence. Extras include featurettes.

Last Word: With fans screaming in anticipation for the kaiju as equally as for the return of Bryan Cranston since the end of Breaking Bad, 2014's Godzilla delivers all of that and more. Is it time to relegate the 1998 film to the archives and stop complaining about it like oh so much Burton's Planet of the Apes?  The answer is yes!

Let Pacific Rim be your ersatz prequel for this summer giant monster movie that digs deep into the Toho Co. archives for meaning behind Godzilla's motivations and where he ranks on the good monster vs. bad monster scale. Is he better thank Neutral Good? You will need to get out and see Godzilla vs. M.U.T.O. to judge for yourself! Bryan Cranston stars as Joe Brody, an American scientist living in Japan with his wife and young son Ford (CJ Adams). When testing seismic readings, he discovers an anomaly and heads to the nuclear power plant where he works with his wife, Sandra (Juliette Binoche).

An accident befalls the plant, with tragic loss of life, and then the scene jumps to ten years later. Ford (Aaron Taylor-Johnson) has joined the Navy as an Explosive Ordnance Disposal (EOD) specialist and has just returned to his wife Ellie (Elizabeth Olsen) and son Sam. A call from Japanese police confirm that his dad Joe has been arrested for trespassing. On a recon mission, we discover that Joe's suspicions about a resurgence of the same readings from that fateful day have occurred. It is not too long after we discover that our new monster, the first to appear in the film, M.U.T.O. (Massive Unidentified Terrestrial Organism) is feeding off of the radiation on in the plant to gain power. Many policemen in hardhats scurry as M.U.T.O. rips through high tension wires meant to contain the creature! And we're off!

Masterful actor Ken Watanabe plays the esteemed Dr. Serizawa, a callback to the original 1954 film. From here on out, the movie takes off. An origin of sorts for the monsters are revealed, and it appears that all of our Pacific atomic bomb testing in the 50s was really attempts to kill Godzilla! The monster is a force of nature, to be sure, and acts as a metaphor for environmental concerns of our day. The action moves from one side of the Pacific to the other, as monsters converge near the final theatre for the battle. In San Francisco Bay, our military heroes, including Ford strategize how to take care of an inhuman threat causing tsunami's, power outages and of course massive city-wide destruction rivaling only that of Transformers 3 or Man of Steel.

Man of course turns to 'The Nuclear Option' with the aid of Lt. Ford Brody, EOD specialist. As teased in the trailer, a C-4 plane of paratroopers drops in as a last ditch human effort. Director Gareth Edwards (Monsters) takes us on a fun ride here, an effects man himself has taken care to give fans what they want from Godzilla's roar to M.U.T.O.'s scream all the way to how the monster acts in key points of the film. Is Godzilla an ally to the people of Earth, or is he a monster to be feared as his crushing claw feet squish Hilton Hotels like juice-boxes? One thing is for sure, the acting is top notch, the story teases monsters straight out of the gate but patiently waits to get there in time. And when it is time to smash and roar you get plenty of it. Some genuinely scary moments have you wishing our heroes were not in so much danger but in one Jurassic Park homage, they duck out of sight of our M.U.T.O.!  The bottom line is that the movie has everything from train fights to monsters to someone heroically saving a school bus full of kids. Oh, and tanks and explosions. (– Clay N Ferno)
Marvel's Agents Of S.H.I.E.L.D.: Season 1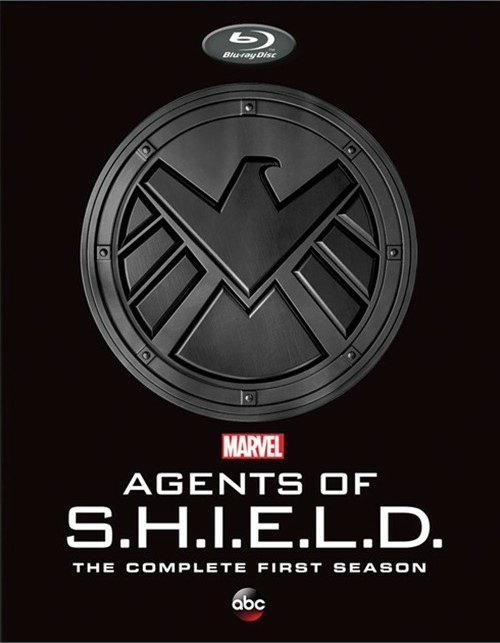 Disney/Marvel / Released 9/9/14
In the wake of The Battle of New York, the world has changed forever. An extraordinary landscape of wonders has been revealed! In response, mysteriously resurrected Agent Phil Coulson assembles an elite team of skilled agents and operatives: Melinda May, Grant Ward, Leo Fitz, Jemma Simmons and new recruit/hacker Skye. Together, they investigate the new, the strange, and the unknown across the globe, protecting the ordinary from the extraordinary. But every answer unearths even more tantalizing questions that reverberate across the entire Marvel Cinematic Universe: Who is "The Clairvoyant"? What is Hydra's sinister master plan; what dark secret lies behind Skye's puzzling origins, and, most importantly of all, who can be trusted? Extras include featurettes, commentaries, bloopers and deleted scenes.

Last Word:  Whether or not it was the plan from the very beginning, but the Marvel took a risk with the first half of the season.  Agents of S.H.I.E.L.D. came across as little more than a franchise series, a NCIS: Marvel.  The characters were "types", the storylines unengaging and the overall feel for the series was uninspired.  That was until the release of Captain America: The Winter Soldier, which changed the status quo of the cinematic Marvel Universe, and was immediately reflected in a series, which for the first time felt like an essential part of the Marvel storyline.  Characters suddenly had purpose, threads suddenly came together and several new characters (Bill Paxton's Agent John Garrett, B.J. Britt as Agent Antoine Triplett and Adrian Pasdar as Glenn Talbot in particular) established strong ties to the greater Marvel universe.  By the time the first season ends, some questions have been answered ("Tahiti, it's a magical place", "Who is the Clairvoyant?") and others (The fate of several characters, the rebuilding of S.H.I.E.L.D. and Coulson's blackboard writings) are still yet to be resolved.  If you had asked me if Agents of S.H.I.E.L.D. was worth watching, you would have gotten two different answers between mid-season and after the season finale.  Slug through the first dozen episodes, then settle in for some fun.  Highly recommended.