I don't want to curse anything, but it looks like we might be delivering these reviews in a more timely schedule. This time (if you can tear yourself away from watching Daredevil on Netflix), we've got a batch of recent 2015 Award nominees, some awesome 80s classics and the latest season of George R.R. Martin's nighttime soap opera.
Fire up that queue and prep that shopping cart, it's That Time of The Week…
The Big Short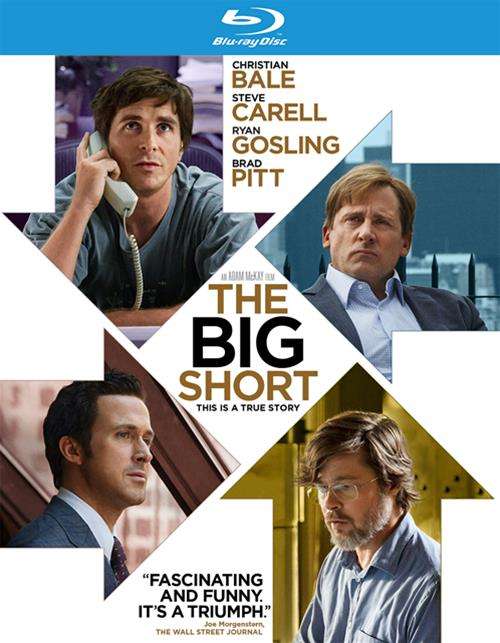 Paramount / Released 3/15/16
Based on the book by Michael Lewis (The Blind Side, Moneyball), The Blind Side tells the story of bond and real estate derivative geeks who saw the housing crash of 2008 coming and bet against the collateralized debt obligation bubble, thus striking it rich. It's kind of like betting the "Don't Pass" line, for the craps players out there. These guys, who were really just trying to stick it to the big banks (which themselves would of course be bailed out), hit the jackpot while the American dream was being flushed down the toilet for regular Joes in the real world. Starring Christian Bale, Steve Carell, Ryan Gosling and Brad Pitt in career-best performances. Extras include featurettes and deleted scenes.

Last Word: It's hard to articulate the complexity of The Big Short and how it's presented, so I'll start by saying, this film was simply excellent. The Big Short follows the discovery of the imminent implosion of the housing market leading to the economic collapse in 2008. I was curious about directorial choice of Adam McKay—how would the Anchorman director deliver the serious nature of Michael Lewis' bestselling book?

But with this complicated and somewhat disturbing subject matter, McKay manages to create a simultaneously exhilarating, yet depressing, and occasionally satirical story, featuring the brutality of the fraudulent nature of the big banks and housing market. The film feels like a derivative of The Wolf of Wall Street and Too Big to Fail combined. The director's stylistic approach oscillates between tense and comedic, and that juxtaposition aids in moving the 130-minute movie along at a decent pace.

Adam McKay makes the film accessible by using sporadic interruptions by celebrities, who break down the technical jargon and complex content.This adds an incredibly humorous element to the movie – a necessary requirement, as the subject matter is so dumb-founding. The end result is a fast paced, emotionally charged story that successfully conveys the greed and corruption of Wall Street.

The all-star cast performed excellently. Ryan Gosling, portraying the quick talking, ready-for-the-money, Jared Vennett, has great timing and narrates the story with wonderfully sarcastic inflection. Christian Bale, as hedge-fund manager Michael Burry, flourishes in his awkwardity, donning baggy t-shirts and no shoes. And Brad Pitt, while his role is appropriately subtle, is entertaining. No character felt superfluous. Each "side-kick" type of role is strong and truly supportive to the main characters. But, Steve Carell's award-worthy performance takes the cake. The actor deserves tremendous applause for his role as Mark Baum. He manages to enact the emotional turmoil of knowing how bad things are about to get for the economy. Equal parts of helpless despair and revolting anger are incredibly poignant. Who would have thought that dimwitted Michael Scott would become seething and frustrated Mark Baum?

I finished the film feeling in an entertained and contemplative state. My thoughts were busy yet hard to consolidate so I'll conclude by circling back to my opening statement. The Big Short was simply excellent. ( – Caitlyn Thompson)
Burnt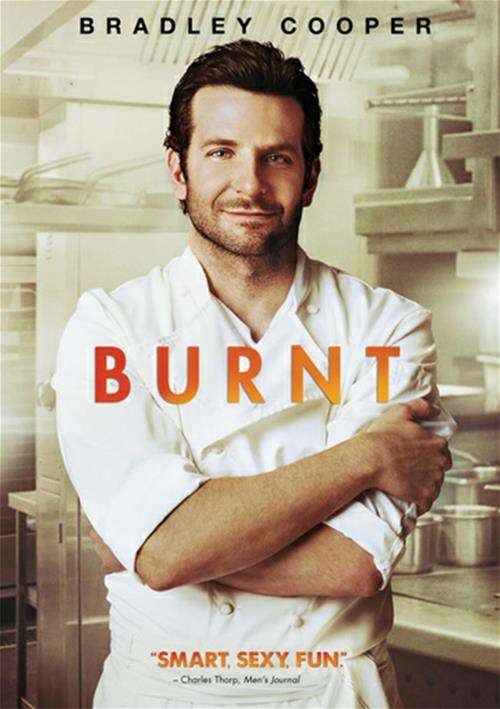 Starz/Anchor Bay / Released 1/26/16
Chef Adam Jones (Bradley Cooper) had it all – and lost it. A two-star Michelin rock star with the bad habits to match, the former enfant terrible of the Paris restaurant scene did everything different every time out, and only ever cared about the thrill of creating explosions of taste. To land his own kitchen and that third elusive Michelin star though, he'll need the best of the best on his side, including the beautiful Helene (Sienna Miller). Burnt is a remarkably funny and emotional story about the love of food, the love between two people, and the power of second chances. Extras include commentary, deleted scenes and featurettes.

Last Word: Just like an "almost" experience dining out, Burnt leaves the viewer with thoughts of "that could have been better, it should have been better." Or, "It was almost there." Right from the start, we get a monologue of an oyster shucking Adam Jones (Bradley Cooper) talking about penance for his past deeds. This becomes one of many over-arching themes of this film. We are told Adam worked in one of the best kitchens in Paris, Jean Luc, working his way up to head chef and two Michelin stars. But he threw it all away thanks to sex, drinking, and drugs. If this sounds like a lazy cliché, it's because it is. It speaks volumes that this is only the first of many.

Jones is a cantankerous personality. Which makes it even harder to believe when he gathers a team to start his new restaurant venture. Jones convinces his old maître d' Tony (Daniel Bruhl) to give him the keys to his restaurant, enticing him with the possibility of 3 shiny stars. By convince, he sends a highly influential food critic to scare him with a potentially bad review and happens to show up to save the day. His sous chef from Jean Luc, Michel (Omar Sy), wants in on the action despite what Jones did to him in Paris, which is never fully explained. He manipulates Helene (Sienna Miller) into joining his team by having her current employer fire her. Helene is a single mother with some serious skills in the kitchen. As the only female of note in the film, well, it is easy to see what will happen between her and our protagonist.

Most of what is wrong with this is the result of poor writing. The characters are stale, the relationships forced, and the conflict is never fully explained. In terms of character development, there is little. Jones is a thoroughly unlikable person. Generally there is some growth and exploration with the typical drugs, sex, and drinking tales. But there is none here. The writers just present that these were past problems, he's been sober for over 2 years, and that is that. Also, Jones comes off as hot tempered, abusive, and manipulative for 90% of the film. It's not until the last 10 or so minutes that he starts to have some sort of introspection and growth. Even that is sudden without any kind of lead in. It just happens. The relationship between Jones and Helene also just happens. One minute Jones is screaming and borderline assaulting Helene, the next they are best friends. Not sure how it happened other than the plot demanded it and so it was done.

Despite the poor writing, Cooper gives a pretty good performance. He delivers his lines with conviction, and when the scene calls for Jones to lose his temper, Cooper believably appears as if he is on the edge. His roles playing characters with mental issues in films such as Silver Linings Playbook shows in Burnt. Bruhl's portrayal of Tony is also a bright spot. He embraced Tony's infatuation with Jones and shines as the foil to the acerbic Jones. Miller, however, was a disappointment. That is a shame as Miller and Cooper had great chemistry in American Sniper. Helene just seems to be a vehicle to move certain plot points forward and nothing more. In fact, they could have removed her from the film and it would not have suffered. For example, one scene has Helene introduce Adam to a sous vide machine and how to use it. Now, the film makes clear that Jones hasn't worked in a restaurant in a number of years, but it is totally inconceivable that he would not know what sous vide is given his background and pedigree. Especially since home cooks have known of it for at least 5 years.

With all that is wrong in the character department, Burnt is a treat for those who enjoy food. The plates presented are gorgeous and worthy of anything seen at world class restaurants like the French Laundry, The Fat Duck, or Le Bernadine. Even the intensity of Jones is mirrored in mold of contemporary chefs like Gordon Ramsey or Marco Pierre White. Right down to the obsession with perfection and the flying plates of unsatisfactory cooking. The film strives for authenticity, showcasing real techniques used in the modern haute cuisine. Eye droppers, tweezers, sous vide machines, and more make appearances. The only shame is the editing can get in the way, cutting and jerking from station to station instead of one beautiful shot of the kitchen at work.

On one hand, Burnt delights with the meticulous attention to detail to make the dishes going out of the kitchen absolutely beautiful. Unfortunately, this is not enough to carry a full length film. This is where it all falls flat. The characters are lacking depth. The main subject is wholly unlikeable with few if any redeeming qualities, save for the last 10 minutes, and by then it is too late. The plot has too many holes in it. For crying out loud no one ever says what happened in France other than Jones made some people very mad and wouldn't be welcomed back in Paris. The editing, especially in the kitchen, appears to be the work of someone suffering from ADHD and off their meds. It really is a shame because this could and should have been a good film. In the end we are left with a meal that looks pretty, but is seriously lacking in seasoning. (– Nathan Grube)
Lionsgate / Released 3/8/16
Manhattan follows the tangled lives of the residents of Los Alamos, New Mexico, as they race to create the first nuclear bomb in history. Locked away in the world's most secretive city, the scientists and their families surrender their freedoms, compromise their marriages, and even sacrifice their sanity to end one war and usher in another – the Cold War, waiting just over the atomic horizon – all while embedded spies and a climate of paranoia threaten to destroy the project from within.

Includes the episodes:

Damnatio Memoriae: Charlie is forced into a new leadership role in the race to build the world's first atomic bomb.

Fatherland: Frank discovers the real reason he's been taken captive.

The Threshold: Liza faces off against Darrow as Abby learns a secret about Oppenheimer.

Overlord: Oppenheimer puts Charlie in a precarious position.

The World of Tomorrow: Frank tries to navigate his new place on The Hill.

33: The scientists and Army battle for control of the bomb.

Behold the High Lord Executioner: The hunt for a Soviet spy turns deadly.

Human Error: As the project falters, Charlie turns to an unlikely partner for help.

Brooklyn: Days before the world's first nuclear explosion, everyone races to secure their place in history.
Jupiter: A new era is ushered in with the first test of an atomic weapon.
Species II
Shout! Factory / Released 3/8/16
Having just returned from a mission to Mars, Commander Ross (Justin Lazard) isn't exactly himself. He's slowly becoming a terrifying alien entity with a one-track mind – to procreate with human women!

When countless women suffer gruesome deaths while bearing half-alien offspring, scientist Laura Baker (Marg Helgenberger) and hired assassin Press Lennox (Michael Madsen) use Eve (Natasha Henstridge), a more tempered alien clone, to find Ross and his virulent brood. But they underestimate Eve's maternal drive, and before long she escapes to mate with Ross in order to create a pure, unstoppable race that could spell doom for mankind.

As time is running out, the ultimate battle takes place in a chilling climax that puts Darwin's theory to the ultimate test… only the strongest species will survive. Extras include interviews, commentary, special effects outtakes & behind the scenes footage, uncut scenes, featurette, trailer and still galleries.
Species III / Species: The Awakening
Shout! Factory / Released 3/8/16
A Double-Dose Of Sci-Fi Terror, Uncut And Unrated!

Species III
In the ongoing fight for supremacy between mankind and human-alien hybrids, a fatal weakness among the hybrids has given humans the advantage… until now. When Sara (Sunny Mabrey, Snakes On A Plane), the daughter of Eve (Natasha Henstridge, Species), is born, she develops into the most genetically perfect alien form yet! Seeking to repopulate Earth with her kind, this dangerously beautiful femme fatale heeds an overwhelming drive to mate… while a crack military team trails her in an attempt to end the war between the two species forever! Extras include commentary, featurettes and trailer.

Species: The Awakening
When brilliant college professor Miranda Hollander (Helena Mattsson, American Horror Story) suffers a mysterious blackout and awakens amid the bloody aftermath of a mass slaughter, she turns to her uncle for answers. But when he reveals the shocking truth… that she's only half human, a clone from a hybrid of human and alien DNA, they must flee to Mexico to locate the scientist who created her. Soon they find themselves locked in battle with a horde of rampaging, unstoppable hybrids… and time is running out before Miranda will inevitably surrender to the killer instinct that lurks inside her own body! Extras include interviews.
Community: The Complete Sixth Season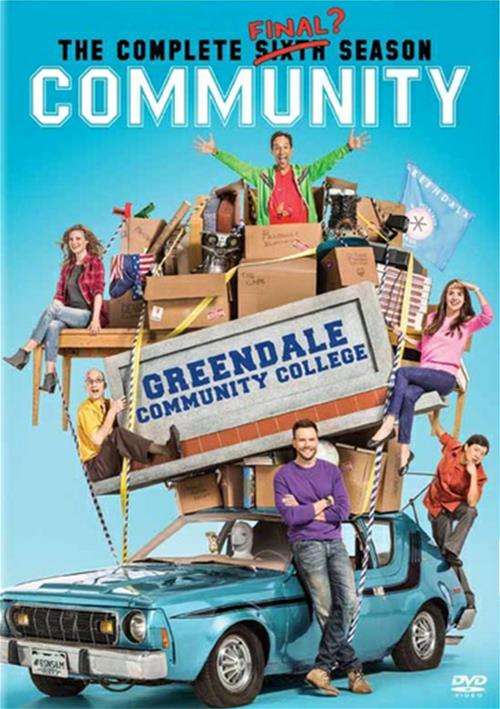 Sony / Released 3/8/16
Hacked emails, virtual reality, schlocky sci-fi filmmaking, grifting, forbidden paintball, a giant hand, a wedding and a stage adaptation of The Karate Kid... Welcome back for one crazy year at Greendale Community College! Though the Study-Group-turned-"Committee of Save Greendale" has succeeded in their missions (well, almost), Dean Pelton (Jim Rush) has hired a by-the-books administrative consultant (Paget Brewster) to help improve the school's day-to-day operations. This, of course, doesn't exactly sit will with everyone in the group and , as a result, they'll see changes good and bad at their beloved school. Starring Joel McHale, Gillian Jacobs, Danny Pudi, Alison Brie, Jim Rash, with Ken Jeong and guest stars Keith David, Yvette Nicole Brown and Paget Brewster. Extras include deleted scenes, gag reel, featurette and trivia.

Includes the episodes:

Ladders: In the Season 6 premiere, a roof collapses under the weight of four decades of errant Frisbees, and Francesca "Frankie" Dart takes over as CFO of Greendale with a plan of fiscal responsibility that includes canceling seemingly pointless classes. Meanwhile, Britta, Annie, Jeff and Abed turn a floundering Shirley's Sandwiches into a speakeasy after Frankie bans alcohol on campus.

Lawnmower Maintenance and Postnatal Care: The Dean's purchase of a virtual-reality system could bankrupt the school, so Jeff must find the device's creator to save Greendale. Meanwhile, Britta moves in with Annie and Abed, but learns her parents have been paying her debts; and Chang is bitten by a cat.

Basic Crisis Room Decorum: A claim that a dog graduated from Greendale could damage the school's reputation, so Abed goes after the animal with an attack ad. Meanwhile, Britta and Elroy bond over a band; and Chang dabbles in pornography.


Queer Studies and Advanced Waxing: The school board's invitation to Dean Pelton to become a member hinges on revelations about his sexuality. Meanwhile, Annie helps Chang with an audition for a stage version of "The Karate Kid"; and Abed and Elroy try to save some baby birds.

Laws of Robotics and Party Rights: Jeff faces a convicted killer who's taking his class from prison via telepresence robot; Britta seeks Abed's help to bend Annie's rules against having parties in their apartment.

Basic Email Security: The school's computers are hacked, and the perpetrator threatens to release the study group's e-mails unless a performance by a racist comedian is canceled.

Advanced Safety Features: A man from Britta's past infiltrates the school as a guerilla marketer. Jeff and the rest of the gang try to determine if Elroy really likes them or not.

Intro to Recycled Cinema: The gang make a low-budget sci-fi movie when Chang becomes an Internet sensation and heads to Hollywood to cash in on his fame. Meanwhile, Jeff fears that everyone will leave Greendale and he'll be all alone.

Grifting 101: A con artist starts teaching at Greendale, so the group try to give him a taste of his own medicine and run a con of their own.

Basic RV Repair and Palmistry: The Save Greendale Committee go on a road trip in Elroy's RV to deliver a giant fiberglass hand that the dean ill-advisedly bought and is quickly convinced to sell.

Modern Espionage: A secret paintball game could ruin Frankie's initiative to clean up Greendale.

Wedding Videography: Abed films a wedding when Garrett gets married to a classmate to whom he shares a surprising connection.

Emotional Consequences of Broadcast Television: As the gang's 6th year at the school comes to a close, they all ponder what a 7th year would look like.
The Spoils of Babylon Season 1
Starz/Anchor Bay / Released 3/8/16
Legendary author Eric Jonrosh (Will Ferrell), the undisputed master of dramatic fiction, introduces audiences to the brilliant adaptation of his best-selling novel, a sweeping chronicle of the provocative and captivating exploits of the Morehouse family. Patriarch Jonas Morehouse (Tim Robbins) shepherds his daughter Cynthia (Kristen Wiig) and adopted son Devon (Tobey Maguire) from meager beginnings in the oil fields of Texas to powerful boardrooms in New York City.

Episodes include:

The Foundling: Jonas Morehouse (Tim Robbins) digs relentlessly for oil as his daughter (Kristen Wiig) and adopted son (Tobey Maguire) begin a forbidden affair.

The War Within: Jonrosh (Will Ferrell) returns with his epic mini-series. War breaks out & Devon (Maguire) joins the struggle, leaving Cynthia (Wiig) behind.

Kicking the Habit: Devon (Maguire) and Lady Anne (Carey Mulligan) fall in love, shocking his sister and former lover, Cynthia (Wiig).

The Rise of the Empire: Jonrosh's (Ferrell) epic story continues as the Morehouse Conglomeration further confuses the forbidden love between Devon (Maguire) & Cynthia (Wiig).

The Age of the Bastard: Cynthia (Wiig) visits Devon (Maguire) in his underwater institute and comes face-to-face with Dixie Melonworth (Jessica Alba), a woman after Devon's heart.

So Sweet the Bells: Jonrosh's (Ferrell) final chapter finds Winston (Haley Joel Osment) out to destroy his family, stopping at nothing to get his revenge.

Chet Zar: I Like to Paint Monsters
First Run / Released 3/8/16
Enter the dark and foreboding world of Chet Zar, where apocalyptic industrial landscapes are inhabited by disturbing yet beautiful monstrosities. Sometimes gruesome, occasionally funny, but always thought-provoking, Zar's art is as enigmatic as it is frightening. But who is Chet Zar, and why does he like to paint monsters? These are the questions at the heart of this new documentary.

Zar is an influential figure in the Dark Art Movement. Born in 1967 in San Pedro, California, Zar was the family prankster. With a passion for horror films, an innate urge to create bizarre artwork, and a superhuman work ethic, Zar seemed to be made for the special effects industry. During his time in the film industry, he designed and created creatures and make-up effects for such films as Darkman, The Ring, Hellboy I & II, and Planet of the Apes. Even more well-known is his work with the band Tool. But despite his success, Zar became disenchanted by the artistic compromises he had to make, and, with the support of author Clive Barker, Zar decided to pursue his passion for monsters by painting them.

Chet Zar: I Like to Paint Monsters is an opportunity to take a journey into the mind and life of Zar. Delve into his experiences in the film industry, his transition from early special effects into the world of computer animation, and, ultimately, his evolution into the distinctive artist he is today. Extras include: extended interrogations, deleted scenes, featurettes, time lapse painting creation and gallery.
Children Of The Stars
MVD/ Released 3/8/16
In 1973, Ruth Norman, a 73 year old widow and self described cosmic visionary purchased 67 acres of land in the mountains east of San Diego, California as a landing site for the Space Brothers, emissaries from the Intergalactic Confederation. Nearly 40 years later, a group of dedicated followers still await their arrival.

At the Unarius Academy of Science death does not exist, Nicola Tesla was a Space Brother, Satan drove a Cadillac and science fiction is real. To relive their pasts the students film their own sci-fi extravaganzas with the increasingly extravagant Ruth Norman as the star and the lines between fantasy and reality dissolve.

Using spectacular footage from original Unarius films and Hollywood Sci-Fi flicks to illustrate, comment upon, and subvert interviews with the remaining Unarius students, Children of the Stars covers millions of years, hundreds of galaxies and dozens of B movies to present a sympathetic look at faith and how people justify it in different ways. Extras include: 25 minutes of bonus material.

Victor Frankenstein
20th Century Fox / Released 3/8/16

Superstars James McAvoy and Daniel Radcliffe are electrifying in this action-packed thriller that breathes new life into the most famous horror tale of all time. Radical scientist Victor Frankenstein (McAvoy) and his trusted assistant Igor (Radcliffe) share a noble vision of aiding humanity through their groundbreaking research into immortality. But when Victor's experiments go too far, his obsession has terrifying consequences, and now only Igor can bring his friend back from the brink of madness… and save him from his monstrous creation! Includes making of documentary.
Cookie Monster The Cookie Thief
Warner Bros. / Released 3/1/16
A brand new museum has opened on Sesame Street, the Museum of Modern Cookie! Cookie Monster, Elmo, and Chris are very excited to check it out. However, when they step inside, all of the cookie art starts to make Cookie Monster hungry for cookies. Chris explains that he needs to control himself and use only his eyes to look at the paintings. Prairie Dawn welcomes them to the museum and gives them a tour. As they walk through the museum, Cookie Monster stops and sees the famous Muncha Lisa by Leonardo da Crunchy and learns how it was created. They also learn about The Cookie Eaters by Vincent Van Dough and The Cream by Edvard Munch.

Suddenly, the paintings begin to disappear, and the museum guards think Cookie Monster has stolen them. Elmo knows Cookie Monster didn't steal the paintings so he becomes a detective and looks for clues to find out who really took the art. He finds crumbs, butter, and chocolate chips, and they realize that the thief must be a cookie. But the guards do not believe them and throw them out of the museum. As Chris, Elmo, and Cookie Monster are walking home, Abby appears. They tell her what happened and she comes up with a plan – she'll use magic to turn them into a painting and then deliver them to the museum.

Abby hangs them on a wall and hides. The cookie thief appears and takes the painting. Cookie Monster, Elmo and Chris call Abby for help and she changes them back. Along with the guards, they chase the thief to find the stolen art. The cookie thief admits to stealing the paintings; he just loves cookie art. Cookie Monster explains that he understands how the cookie feels but that he can't take the cookie art because then no one else would be able to enjoy it. Cookie Monster then comes up with an idea– the cookie can make his own art! With paint and paper, the cookie makes a self-portrait and the guards hang it up on the museum wall, the perfect spot. Extras include OK Go music video, "Cookie Hood" episode and Elmo's World: Drawing.
The Wonders
Oscilloscope / Released 3/8/16
Winner of the Grand Prix at the 2014 Cannes Film Festival and a standout at the New York Film Festival, young Italian filmmaker Alice Rohrwacher's (Corpo Celeste) entrancing, richly textured drama centers on a family of beekeepers living in stark isolation in the Tuscan countryside. The dynamic of their overcrowded household is disrupted by the simultaneous arrival of a silently troubled teenaged boy taken in as a farmhand and a reality TV show (featuring a host played by Monica Bellucci) intent on showcasing the family. Both intrusions are of particular interest to the eldest daughter, Gelsomina (Maria Alexandra Lungu), who is struggling to find her footing in the world, and Rohrwacher conveys her adolescent sense of wonder and confusion with graceful naturalism. Extras include film short Bee City, featurette, gallery and deleted scenes.
What Our Fathers Did: A Nazi Legacy
Oscilloscope / Released 3/15/16

A poignant, thought-provoking account of friendship and the toll of inherited guilt, What Our Fathers Did explores the relationship between two men, each of whom are the children of very high-ranking Nazi officials and possess starkly contrasting attitudes toward their fathers. Eminent human rights lawyer Philippe Sands investigates the complicated connection between the two, and even delves into the story of his own grandfather who escaped the same town where their fathers carried out mass killings. The three embark on an emotional journey together, as they travel through Europe and converse about the past, examining the sins of their fathers and providing a unique view of the father-son relationship, ultimately coming to some very unexpected and difficult conclusions. Extras include commentary, interview, extended scenes and deleted scenes and book excerpt.
The Forbidden Room
Kino Lorber / Released 3/8/16

The Forbidden Room is an epic phantasmagoria from Guy Maddin and Evan Johnson. Honoring classic cinema while electrocuting it with energy, this Russian nesting doll of a film begins (after a prologue on how to take a bath) with the crew of a doomed submarine chewing flapjacks in a desperate attempt to breathe the oxygen within. Suddenly, impossibly, a lost woodsman wanders into their company and tells his tale of escaping from a fearsome clan of cave dwellers. From here, Maddin and co-director Evan Johnson take us high into the air, around the world, and into dreamscapes, spinning tales of amnesia, captivity, deception and murder, skeleton women and vampire bananas.

Playing like some glorious meeting between Italo Calvino, Sergei Eisenstein and a perverted six-year-old child, The Forbidden Room is a grand ode to lost cinema. Created with the help of poet John Ashbery, the film features Mathieu Amalric, Udo Kier, Charlotte Rampling, Geraldine Chaplin, Roy Dupuis, Clara Furey, Louis Negin, Maria de Medeiros, Jacques Nolot, Adéle Haenel, Amira Casar and Elina Löowensohn as a cavalcade of misfits, thieves and lovers, all joined in the joyful delirium of the kaleidoscopic viewing experience. Extras include commentary, featurettes, booklet with essays, séance and trailer.
Game of Thrones: Season 5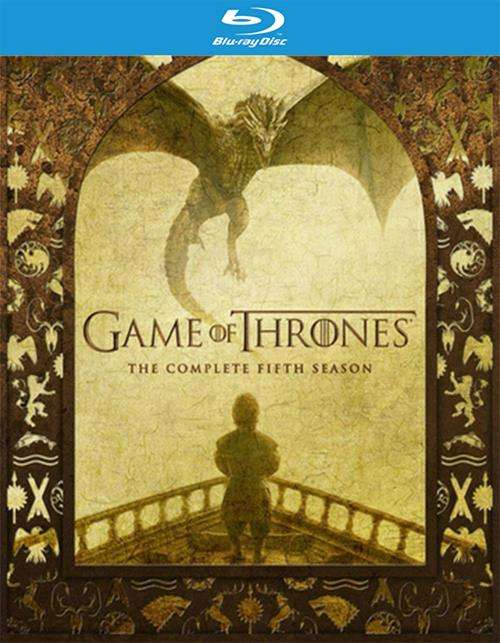 HBO / Released 3/15/16

The most-watched series in HBO history and a worldwide TV phenomenon, Game of Thrones remains a runaway hit, and the fifth season's 12 Emmy Awards are the most of any TV series in a single year. The season begins with a power vacuum that protagonists across Westeros and Essos look to fill. At Castle Black, Jon Snow struggles to balance the demands of the Night's Watch with those of newly-arrived Stannis Baratheon, who styles himself the rightful king of Westeros. Meanwhile, Cersei scrambles to hold on to power in King's Landing amidst the Tyrells and the rise of a religious group led by the enigmatic High Sparrow, while Jaime embarks on a secret mission. Across the Narrow Sea, Arya seeks an old friend while a fugitive Tyrion finds a new cause. And as danger mounts in Meereen, Daenerys Targaryen finds that her tenuous hold on the city requires some hard sacrifices. This season features some of the most explosive scenes yet, as the promise that "winter is coming" becomes more ominous than ever before. Extras include featurettes, commentaries, and deleted scenes.

Episodes include:

The Wars to Come: Varys discusses a conspiracy with Tyrion; Daenerys' rule faces a new threat; Jon finds himself between two kings; and Cersei and Jaime try to move on from Tywin's demise.

The House of Black and White: Arya arrives in Braavos; Brienne and Podrick find danger while traveling; Cersei worries about Myrcella in Dorne when Ellaria Sand seeks revenge for Oberyn's death; Jon is tempted by Stannis.

High Sparrow: Cersei meets the High Sparrow after learning of a clergyman's embarrassing tale. Meanwhile, Davos talks to Jon about the future of Winterfell, where Ramsay Snow has just learned the identity of his future bride; Arya grows impatient doing menial tasks in the House of Black and White; and Tyrion searches for more comfortable surroundings on a long trip with Varys.

Sons of the Harpy: The Faith Militant grow increasingly aggressive in King's Landing. Jaime and Bronn head south. In Dorne, Ellaria and the Sand Snakes vow vengeance.

Kill the Boy: Dany makes a difficult decision in Meereen. Jon recruits the help of an unexpected ally. Brienne searches for Sansa. Theon remains under Ramsay's control.

Unbowed, Unbent, Unbroken: The Sand Snakes attack; Arya continues her training; Jaime and Bronn reach their destination; Trystane and Myrcella discuss their future; Jorah and Tyrion have a run-in with slavers.

The Gift: Sansa reaches out to Theon; Jon senses conflict is near; Brienne patiently waits for a sign; Stannis' stubborn streak prevails; Jaime tries to reconnect with family.

Hardhome: Arya makes progress in her training; Sansa meets an old friend; Jon takes to the road; Cersei's troubles pile up.

The Dance of Dragons: Jon returns to the Wall; Arya runs into someone from her past; Mace visits the Iron Bank; Stannis faces a difficult decision; Daenerys oversees a celebration of athleticism.

Mother's Mercy: Stannis is on the march in the Season 5 finale. Meanwhile, Cersei seeks forgiveness; Jon faces a new challenge; and Daenerys finds herself surrounded by strangers.
Brooklyn
20th Century Fox/ Released 3/15/16
Oscar Nominee Saoirse Ronan lights up the screen as Eilis Lacey, a young Irish immigrant navigating through 1950s Brooklyn. Although her initial homesickness soon gives way to romance, when Eilie's life is disrupted by news from her hometown, she is to choose between two countries and two men on opposite sides of the world. Based on the best-selling novel, Brooklyn is a warm and wonderful story about falling in love…and finding your way home. Extras include commentary, featurettes, deleted/extended scenes and gallery.

Last Word: It seems like a lot of moviegoers this year are still too busy whining about Anne Hathaway's character Brand's speech about love transcending time and space to realize that she's completely correct. Find a love strong enough at the right time and you'll find it malleable enough to stretch far beyond the reaches of any voyage across the pond and beyond. Such a thing is the central idea behind John Crowley's startlingly beautiful Brooklyn. With the help of a tremendously strong crew, Crowley fine-tunes a complete world that gives us not only one of the best films of the year, but the most warm, nostalgic, and human by far.

Brooklyn stars Saoirse Ronan as Eilis (pronounced "ay-lish") Lacey, a young and hopeful Irish girl embarking on a new life in early 1950s America, set up by her sister in the hopes of giving her the life she deserves, not quite possible in their home in Ireland. She arrives via boat already having a home in a boarding house and a job at the local department store, but has her own dreams to achieve on her own. As the homesickness runs thick through her blood, she finds solace in the form of Tony, played by Emory Cohen, a more local Italian boy on the hunt for Irish love himself, whom she meets at an Irish dance in the city. All at once the immense love of two teens takes hold as Tony laps up her heart faster than she can realize, and the dream life Eilis seeks is all but imminent until a family death brings her back for a visit to Ireland. There she meets local catch Jim Farrell, played by Domhnall Gleeson. Now Eilis must examine her own ability to love amidst a triangle that literally spans the globe.

Like a big hug from grandma, the world of Brooklyn wraps its arms around you and holds tight as the worries drip off your body for just about the entire 112-minute run-time, only to leave your belly full of assorted treats, metaphorically. Early 1950s New York is captured completely authentically and emotionally by cinematographer Yves Bélanger, production designer François Séguin, and costume designer Odile Dicks-Mireaux, with densely rich colors, backdrops, and costumes that so defined the era in both fashion and architecture. Add in a gorgeous musical composition by Michael Brook and Brooklyn is easily one of the most immersive and authentic works of the past few years.

Outstanding performances all around, especially by the supporting cast. The sisters already living in Eilis's boarding house each have their own quirks that stand out and breathe life into the usual glim boarding house life seen in films. Bigger supporting performers, like Jim Broadbent as family friend Father Flood and Julie Walters as the hilarious boarding house host Mrs. Kehoe, are as fantastic as you've come to expect from such high-profile actors. Emory Cohen does a marvelously realistic job as Tony, a young but mature man with a big heart for both those he loves and his own life and career, but this is clearly Saoirse's film, and one in which she seems to have been born to lead. Eilis's story is not an easy one, with exorbitant highs and lows, and Ronan captures the emotions in a very emotional life in a way only somebody with her personal background can, in relation to the project. The accents, the music, the looks, everything so authentically Irish, adds a necessary layer to her performance that goes a long way to ensure the feeling is exactly what is needed throughout.

I can't think of another film that portrays a young love as realistic and meaningful as this one. The developing trust and affection Eilis forms with Tony, and the way one acts for and around the other, is slightly reminiscent of something from my past. The way Tony's animated Italian personality has him swinging from poles after just seeing Singin' in the Rain and just acting goofy while a more restrained Eilis lovingly watches a few steps behind is the kind of affection I myself have experienced. Anyway, the other side of the coin has Eilis with Jim Farrell in Ireland, which is more of a manufactured love, a kind of love that is decided by material possessions and who is "best" for the other. Jim is charming, smart, and rich, but any connection between the two is more "look what I can give you" rather than Tony's "look what we can give each other." Still, in that period in America, either scenario is valid. It's a love triangle respectfully played out that doesn't leave either side as a "winner" or "loser."

One standout scene of Brooklyn in particular has a random character in a soup kitchen singing a breathtaking Irish song to the room full of men. It is a remarkable demonstration of genuine Irish culture (hell, my theater was even treated to a live performance of such songs before the show) that I still think back to days after the film ended. It's a great sort of metaphor for the film as a whole, where every aforementioned trait comes together as one package. It's a tale of dreams, beauty, emotions, and one's ability to find love in a world where everyone is finding their way in a country of growing opportunity. (– Steve Carley)
Carol
Starz/Anchor Bay / Released 3/15/16

In an adaptation of Patricia Highsmith's seminal novel The Price of Salt, Carol follows two women from very different backgrounds who find themselves in an unexpected love affair in 1950s New York. As conventional norms of the time challenge their undeniable attraction, an honest story emerges to reveal the resilience of the heart in the face of change.

A young woman in her 20s, Therese Belivet (Rooney Mara), is a clerk working in a Manhattan department store and dreaming of a more fulfilling life when she meets Carol (Cate Blanchett), an alluring woman trapped in a loveless, convenient marriage. As an immediate connection sparks between them, the innocence of their first encounter dims and their connection deepens.

While Carol breaks free from the confines of marriage, her husband (Kyle Chandler) begins to question her competence as a mother as her involvement with Therese and close relationship with her best friend Abby (Sarah Paulson) come to light. Extras include Q & A with cast & crew and gallery.

Last Word: Love is a spell about opposites. It's a feeling that can cause pain, yet a pain we often seek out intentionally. It can remind us of loneliness while, at the same time, giving us a sense fulfillment up until then unknown. It has often been explored to full extent scientifically, yet many of us still consider it a sort of fairy-tale magic, something unexplainable to anybody who isn't experiencing it right here, right now. It's no surprise that love is often described as and is associated with beauty. In a tactic that is common in filmmaking as "show, don't tell," Todd Haynes's Carol paints a gorgeous picture exploring just what kind of power that spell can hold on somebody, anybody.

Carol, starring Rooney Mara and Cate Blanchett and adapted from The Price of Salt by Patricia Highsmith, is an intimate tale of almost-forbidden love in the early 1950s, a sort of candle-lit exposé on both the refreshing highs and heartbreaking lows of what it means to find somebody for which one can feel so boldly and unconditionally. It's not so much about the feeling when you sit down at the table on a date, but the spark felt three martinis in, after the eyes lock, and the lights have been dimmed. In this case, it's at the opening of the story, with Mara as Therese (Tar-ezz) Belivet and Blanchett as Carol Aird, enjoying the company of one another. Flashing back a bit, we discover both women have their own crutches, with Therese's pre-marital apprehension reflecting that of post-marital deconstruction. It only seems natural for these two characters to meet in a story like this, and it happens when Carol comes across Therese at a local department store, Therese's workplace. That spark is felt almost immediately as the two hit it off. Carol ends up leaving her gloves at the counter, be it an accident or intentional (we can certainly make an educated guess as to which). It's not exactly a unique tactic -something instead bordering on cliché- but nobody can argue the overall effectiveness. It doesn't take long for the spell to take over and the two women to begin exploring a relationship only one of them has truly explored before, and with it, the consequences of a life left more or less on the back burner to the exciting potential on the horizon.

Acclaimed director Todd Haynes (Safe, Far From Heaven) directs this story with a careful eye for intimacy, easily seen from his early choice to shoot the movie using 16mm film, bringing the frame closer to the action, both literally and figuratively. The result is a warmer, more nostalgic color palate, with soft grain and focus, and framing kept near the actors, except for when showcasing the gorgeously realized world of a 1950s Manhattan, designed by Judy Becker and photographed by Ed Lachman. It's hard to imagine the rain-slick city streets, smoke billowing from the manholes, lit by the warm glow of streetlights lining the old buildings, captured more intimately in a movie, something not since the old black-and-white days of the classic film noir. Images like the raindrops running down the taxicab window as Therese gazes absently out into the city reflect the theme of a dazzling affection for something not fully realized, something found seemingly at the perfect moment. The costumes designed by Sandy Powell with the rich 1950s set decoration by Jesse Rosenthal bring the audience into an authentically realized time period that only John Crowley's Brooklyn has accomplished earlier this fall.

The two leads are quietly electric, as Rooney Mara, portraying a sort of mature innocence, plays remarkably well off of Cate Blanchett's opulent mothering beauty. Mara has proven time and time again that she can play a meticulous role, emotionally calculated but not intimidating. She handles Therese Belivet very well as something of an impressionable youth, thirsty for the right person to create a path in front of her. Cate Blanchet is just a queen of her craft, a presence that demands your attention for every second she's on screen, and her role as Carol is no different. From the moment we see her approach Therese's counter in the store, to every intimate argument shared with exiting-husband Harge (played ferociously by Kyle Chandler) over the future of their daughter, Blanchet is fierce and assured as somebody who struggles to decide what's best for both her daughter and herself. It's a fantastic relationship on screen by a still-emerging talent and a modern legendary force.

Carol is an ambitious movie in that it tackles a complex topic using a wealth of tools that make for a remarkably moving product. The idea of a forbidden love isn't exactly groundbreaking or even uncommon, but it shows that the right tools can give something familiar a fresh perspective. It asks questions that don't exactly have all the answers, but don't need them, either. It's a story that each person can leave with his or her own reactions. I suppose the same can be said about every movie, but not every movie tackles something so complex in such a way that leaves so much to our own individual experiences. (– Steve Carley)
Sisters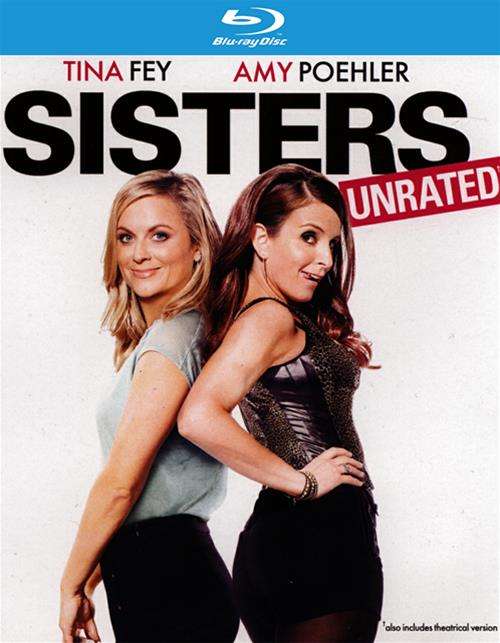 Universal / Released 3/15/16
Tina Fey and Amy Poehler portray two disconnected sisters summoned home to clean out their childhood bedroom before their parents sell the family house. Looking to recapture their glory days, they throw one final high-school-style party for their classmates, which turns into the cathartic rager that a bunch of ground-down adults really need. Cast also includes Maya Rudolph, Ike Barinholtz, James Brolin, Dianne Wiest, John Cena, John Leguizamo, Bobby Moynihan, Rachel Dratch and Samantha Bee. Extras include commentary, featurettes, deleted & scenes and gag reel.

Last Word: Sisters is the tale of love and pure debauchery as Tina Fey and Amy Poehler reunite once again to cause more havoc and laughable situations. This time around they'll battle the tale of two opposing lifestyles, what happens when you become stuck in life and how one night of reliving their childhood could change their lives for the better…or drug-fueled worst.

Not wanting the audience to sit through the same characters from their previous films, they switch roles; Fey takes the lead as a sloppy train wreck of a mess as Kate Ellis while Poehler plays her duller half, Maura. Despite being an adult, Kate has never let go of her childlike carefree-no-responsibilities lifestyle as she is often scorned by her own daughter as being an embarrassment, avoided by her parents and a burden to her younger more responsible yet equally miserable sister.

Now in their forties, they're facing the consequences of their lifestyles. Kate is unable to hold a job while Maura is chugging through life alone and carrying the effects of a failed marriage. However, the only thing they know how to successfully do is enjoy each others company.

If dealing with the downfalls of life aren't enough, the pair have just discovered their parents (played by James Brolin and Dianne Wiest) have decided to put the family home up for sale so they can move into a condo with less space where they can partake in more sex. However, their happy retirement plans hit a snag when their daughters protest to the sale of the house. To them they're not only losing childhood memories, but it's the only place where they've ever been truly happy.

Despite their failed attempts at trying to the thwart their parents' plans to sell the home, they decide to throw one last bash hoping to relive their childhood by having one "hot mess" of a night with the various high school friends they invite via Facebook, including the snobbish "mean girl" played by Maya Rudolph who decides to crash the party, one too many times.

Sisters is an uneven mix of overacting comedy, a romance, somber moments and a new aged Project X for those too old to be poppin' bottles (and pills) in the club. Despite its inability to find a genre or pace, it manages to be enjoyable in very small fleeting moments, only if you completely turn off your brain. Sisters take some time getting warmed up, but even with this time, the real fun never really seeps in.

Sisters doesn't try to reinvent the comedy wheel, everyone plays their stereotypical parts without much fuss. As the music increases and the drugs start flowing, the stereotypes become more enhanced. The always mannerable mom (Samantha Bee) becomes a sex-crazed topless woman, the residential "Fat Guy" (Bobby Moynihan) gets high and performs over-the-top stunts in scenes and monologues that go on for far too long. Rachel Dratch plays the sad weird drunk who is just uncomfortable to watch, while Maya Rudolph throws temper tantrums for no explainable reason. Then there's WWE's Superstar John Cena, who is terribly underused as the silent drug dealer who sits in the corner staring suspiciously as the plot drags to a slow conclusion.

Sisters tries too hard to be something it's not (a thoughtful comedy) and, as a result, it never fully reaches its potential due to paint-by-numbers writing, unoriginal Hollywood stereotypes and too many characters added in hopes of satisfying the SNL crowd or most of them trying to make us believe they still have a career after they left the show.

While Poehler and Fey continue to have undeniable chemistry, Sisters is a movie where nothing major really happens, but predictable awkward attempts of fun and a ballerina music box placed in areas no ballerina should ever go. The jokes are stretched to the thinnest depths of desperation (how many times does Moynihan need to lose his pants?) while characters who have the most fun onscreen are barely seen.

The main problem with Sisters is that Fey did not write the screenplay, Paula Pell did and it resulted it in a way too safe role starring the enigmatic Fey. Everything is out of place, the jokes lack punch and, despite the almost two-hour run time, there's no growth, change or forgiveness from neither character, even though the film presents deep issues between them and as a result, the "sympathetic" moments feel forced and rushed. Storylines between mother and daughter are wasted while the reason behind Maura's divorce is never explored despite the fact it had a deep effect on her. However, she's thrust into an awkward dating storyline with James (Ike Barinholtz) that makes no sense with weirdly timed pacing where neither actor appears to want to be in the scene with each other.

Sisters is a movie you take at face value, an SNL skit (which should come as no surprise since Pell is a former SNL writer) that works best for fifteen minutes with the remaining 103 minutes as disappointing background noise that will soon fall along the forgettable movies of 2015 wayside. (– Dana Ambercrombie)
Invasion U.S.A.
Shout! Factory / Released 3/15/16
When America faces invasion for the first time in history, it's up to one-man army Matt Hunter (action superstar Chuck Norris) to wage war upon the enemies of freedom. On suburban streets, in shopping malls, and even in churches, the firepower explodes in megaton fury… and death-defying stunts escalate into a heart-stopping climax when Hunter, America's doomsday weapon, launches his final plan.

An army of terrorist mercenaries led by Soviet agent Rostov (Richard Lynch, Bad Dreams) catches America unprepared and makes it a war zone from sea to shining sea. Only one man can stem the rising tide of violence: retired agent and martial arts expert Matt Hunter. Leading the United States Army into guerilla warfare on its own turf, Hunter won't stop until every last bazooka-wielding enemy is taken out. From the director of Missing In Action, Joseph Zito, comes one of Norris' most action-packed films. Extras include commentary, interviews, trailer, tv spot and still gallery.
Sun, Sand and Sweat 4 Movie Set
Mill Creek / Released 3/15/16
Includes:

Private Resort
Starring: Johnny Depp, Ron Morrow, Emily Longstreth

Jack and Ben check in at a posh Florida resort, planning to spend every hour in hot pursuit of babes. But their plans hit a major detour when they try to bed the wife of a conniving jewel thief. They'll have to outsmart him, a nasty security guard and an obnoxious jock if they're ever going to get a moment alone with the girl of their dreams!

Hardbodies
Starring: Grant Cramer, Teal Roberts, Gary Wood, Michael Rappaport, Roberta Collins

When three middle-aged geezers move into a swinging beach house, they hire a young stud to teach them how to score with the local beauties.'80s band Vixen and hundreds of Southern California's hottest swimsuit models co-star in the legendary cult comedy.

Spring Break
Starring: David Knell, Perry Lang, Paul Land

Adam and Nelson are naive college students who have come to Fort Lauderdale to perform these rites of Spring Break. Due to a mix-up, the boys end up in the same room with a pair of experienced guys from New York who coach the boys on the finer points of seduction – with mixed results.

Perfect
Starring: John Travolta, Jamie Lee Curtis, Anne De Salvo, Marilu Henner, Laraine Newman

Based on a series of Rolling Stone articles by Aaron Latham, this romance was set in the world of L.A.'s hip fitness scene. Rolling Stone reporter Adam Lawrence (John Travolta) comes to L.A. to write a story about a prominent businessman who's been arrested for drug dealing (shades of the John DeLorean scandal). He's also decided to research a piece on the exercise fad and how health clubs have become the "singles bars of the '80s." His boss (real-life Rolling Stone editor Jann Wenner as himself) OK's the project. At a club called The Sports Connection, an incognito Adam meets the regulars, including promiscuous Linda (Laraine Newman), airhead Sally (Marilu Henner) and aerobics instructor Jessie (Jamie Lee Curtis), a former Olympic swimmer. Adam and Jessie begin a romance, but it ends when she discovers that he's there to trash her and the club in print. Conflicted, Adam wrestles with publishing the story, but the final decision isn't his.
Jean-Claude Van Damme – 5 Movie Pack
Mill Creek / Released 3/15/16

The Muscles from Brussels in five entertaining action films.

The Hard Corps
Starring Jean-Claude Van Damme, Raz Adoti, Vivica A. Fox, Peter Bryant, Viv Leacock, Adrian Holmes

A former Desert Storm special forces soldier is assigned the task of protecting a retired World Heavyweight champion turned powerful entrepreneur when the thuggish rap mogul he put behind bars comes gunning for revenge in this bullet-riddled action entry starring Jean-Claude Van Damme and Vivica A. Fox. When Wayne Barclay testified against music industry heavy Terrell Singletery (Viv Leacock), he made an enemy for life. Now Terrell is being released from prison, and his time behind bars has only fueled his hunger for revenge. Vengeance won't come easy for this embittered ex-con though, because when Philip Sauvage (Van Damme) sets up a special team of vicious fighters and former soldiers to protect Barclay, the determined thug is will be forced to defeat a seasoned team of warriors with enough combat experience to wage a small war.

Double Team
Starring: Jean-Claude Van Damme, Dennis Rodman, Paul Freeman, Mickey Rourke

Jean-Claude Van Damme and Dennis Rodman team up as a world-class counter-terrorist and his flamboyant but deadly weapons dealer in this explosive action/adventure thriller.

Maximum Risk

Starring: Jean-Claude Van Damme, Natsha Henstridge, Jean-Hughes Anglade

Retired French soldier Alain Moreau (Jean-Claude Van Damme) never knew he had a brother, much less a twin, until he found him lying dead on the streets of his European hometown. To find out who his brother was, he must follow his footsteps back to New York's tough Little Odessa and into the same shadowy underworld that swallowed his brother.

Universal Soldier: The Return

Starring Jean-Claude Van Damme, Michael Jai White, Heidi Schanz, Bill Goldberg

Prepare to become obsolete.Luc (Jean-Claude Van Damme), is about to be thrown into action once again. The entire Universal Soldier team is facing elimination, including SETH, the super-computer that controls the ultra-warriors. Knowing that his days are numbered, SETH decides to seek revenge by destroying his creators. By morphing into human form he begins to unleash his wicked plan. As Luc faces SETH, a battle pitting man against machine and good against evil ensues, offering the kind of high-intensity sci-fi action you've come to expect from Van Damme in a story you won't soon forget!

Second in Command

Starring Jean-Claude Van Damme, Julie Cox, Alan McKenna, William Tapley

It's Time To Take Charge! In this action-packed, edge-of-your-seat film, Jean-Claude Van Damme plays an official who's just been appointed as Second in Command to the U.S. Ambassador at an American Embassy in a, turbulent Eastern European nation. When local insurgents attempt a coup d'etat, the nation's President takes refuge inside the embassy. The embassy is then besieged by the well-armed insurgents. Now it's up to Van Damme and the embassy's small detachment of U.S. Marines to fend off the attackers.
Braddock: Missing in Action III
Shout! Factory / Released 3/15/16
When Colonel James Braddock (Chuck Norris) is told that his wife and 12-year-old son are still alive in Communist Vietnam, he mounts a one-man assault to free them. Armed with the latest high-tech firepower, Braddock fights his way into the heart of the country, and ends up battling his way out with several dozen abused children in tow. Struggling to protect the kids while outmaneuvering the sadistic Vietnamese officer General Quoc, Braddock ignites the jungles in a blazing race for freedom.

This is the final chapter in the action-packed Missing In Action trilogy, directed by Chuck's brother, Aaron Norris (stunt coordinator on both Missing In Action and Missing In Action 2: The Beginning).
Monster Dog
Kino Lorber/ Released 3/15/16
Rock legend Alice Cooper stars in one of the wildest horror films of the 1980s! When singer Vince Raven returns to his hometown to shoot a music video, he and his crew are confronted by a terrifying local legend. Packs of wild, bloodthirsty dogs seem to be on the loose attacking the population, but in fact, there's something even more monstrous and supernatural at work: a clawed, demonic beast straight from the depths of hell. Featuring two Alice Cooper songs, "Identity Crisis" and "See Me in the Mirror," this outrageous slice of Euro horror from Claudio Fragasso, director of the beloved Troll 2, will make you think twice the next time you take your dog out for a walk. Extras include
Steve Jobs: The Man in the Machine
Magnolia / Released 3/15/16

From Oscar-winning filmmaker Alex Gibney, the creator of such controversial and thought-provoking films as Enron: The Smartest Guys in the Room, We Steal Secrets: The Story of Wikileaks, and The Armstrong Lie, comes another penetrating and contemplative exploration of contemporary society and the men and women who shape it: Steve Jobs: The Man in the Machine.

Perhaps the most publicly revered corporate figure of the technology age, Jobs' untimely death at the age of 56 in 2011 set off a worldwide outpouring of grief from consumers who worshipped his signature products such as the iPhone and the iMac. As the co-founder and CEO of Apple, his name and image had become synonymous with the sleek, high-tech personal devices that came to define and transform the first two decades of the 21st century. Even after his death, the highly secretive creation and careful launching of each new Apple product continues to be the focus of mass media interest and a rush by consumers to be the first to own it.

As a result, Jobs was able to transform Apple from a small start-up working out of a garage into the world's most valuable corporation in history, a global economic engine.


Steve Jobs: The Man in the Machine is no corporate sanctioned hagiography and was made without Apple's cooperation or that of Jobs' immediate family.

Gibney's film is a laser-sharp and balanced assessment of the technology mogul, who was part iconoclast, part savvy corporate chieftain, part genius, part tyrant. Even if Apple's products carried a small "i," the ego behind them was writ large. Like many gifted entrepreneurs, it was no accident that his public persona as the face of Apple often eclipsed the valuable contributions of his talented colleagues.

The innovative structure of the film allows Gibney the freedom to explore the trenchant paradoxes of Jobs' personal and public life and simultaneously examine the complexities of society's interaction with personal computer technology. He does so through a fascinating mixture of archival footage and probing interviews with the men and women who were a part of Jobs' personal and professional life.

In addition, through his probing analysis of Jobs, Gibney exposes the darker side of Silicon Valley, where innovators create life-changing software and hardware that is then manufactured under appalling conditions overseas, implicating us all in the darker aspects of this new industrial revolution; where collusion, a winner-take-all philosophy and a reckless disregard for social responsibility are a dangerous harbinger of things to come. A byproduct of Gibney's investigation of Jobs' life is a larger commentary on the current state of technology in the modern world, how it has brought us closer together and, at the same time, isolated us.

But first and foremost, Steve Jobs: The Man in the Machine is an evocative portrait of one man's legacy. It unravels the larger than life myth Steve Jobs so deliberately crafted, and examines the perpetuation of his values, which continue to shape the culture of Silicon Valley to this day. Extras include director interview, deleted scenes and trailer.
CHiPs: The Complete Fourth Season
Warner Bros. / Released 3/15/16
Ponch and Jon are back in the fourth installment of the six season series of highway crime fighting, as CHiPs: The Complete Fourth Season is released for fans to enjoy! The star-studded cast includes Golden Globe nominated Erik Estrada and Larry Wilcox as California Highway Patrol motorcycle officers Francis "Ponch" Poncherello and Jon Baker.
In season four, the highway adventures continue with Ponch and Jon as they continue to keep the busy freeway of California safe from crime. Whether making routine stops for speeding or nabbing criminals on the run, California Highway Patrol is on the case. Nothing can stop these fearless partners, as they hit the streets of Southern California, in the pursuit of justice and highway safety. Guest stars include Sonny Bono, Michael Ansara, Ken Berry, Alex Rocco, Tina Louise, Milton Berle, Robert England Chris Mulkey, Richard Roundtree, Cindy Morgan, Stuart Pankin, Barbi Benton, Danny Bonaduce, Dwight Schultz, and Joanna Kerns.
Includes the episodes:
Go-Cart Terror: There is a Go-Cart race between a club organized by the CHP, against a club organized by firefighters. They also have to find a few burglars.
Sick Leave: The CHiPs try to persuade a fellow officer to take sick leave after he takes unnecessary risks.
To Your Health: A farmer believes a large agricultural company is sabotaging his trucks to shut down his business. Ponch goes on a health kick to impress women who own a health food store.
The Poachers: While chasing poachers in the woods, Ponch and Jon encounter a man of Native American descent who wants to teach his grandson how to survive in the wilderness.
The Great 5K Star Race and Boulder Wrap Party: Part 1: Ponch is looking for celebrities to participate in a fundraiser. Jon helps a boy who wants Jon to be his Big Brother.

The Great 5K Star Race and Boulder Wrap Party: Part 2: Attempts are made to remove a large boulder which is putting Milton Berle's home in danger. The CHP fundraiser is a success with plenty of celebrities participating.
Satan's Angels: Officer Bonnie Clark is kidnapped by members of a biker gang.
Wheels of Justice: Ponch and Jon try to keep both a dangerous drunk driver and a habitual reckless driver off the streets. A gas main breaks at the hospital. Central takes in an entire maternity ward until the babies can be transported.
Crash Course: Sonny Matson is a getaway driver who was recently released and back on the streets committing robberies. Ponch has difficulties with his bank account.
Forty Tons of Trouble: Thieves are stealing large construction equipment. The CHP officers also chipped in to buy a dragster.
11-99: Officer Needs Help: A new dispatcher is having trouble handling calls. The CHP try out a new device that sends out an emergency signal when an officer is down.
Home Fires Burning: Arsonists are setting fires to RVs in an insurance scam.
Sharks: Ponch and Jon stumble across a drug smuggling ring while scuba diving.
Ponch's Angels: Part 1: Ponch is assigned to train a female motorcycle officer who shares many of his rebellious traits; CHP officers try to recapture an escaped prisoner.
Ponch's Angels: Part 2: Jon, his female trainee and the rest of the CHP officers must work together to shut down the marina operation and recapture the escaped prisoner.
Karate: Ponch uses karate to try and convince kids at a youth center to stay away from gangs and drugs.
New Guy in Town: There's a new rookie officer working with the CHP. A man is trying to avenge his brother's death by trying to kill Ponch and Jon.
The Hawk and the Hunter: Barizca's father, a crop duster, is being threatened by someone who believes the chemicals he is using are dangerous. When Barizca also learns that his father is not physically able to fly, he decides to take some time off to fill in for him. Jon tries to find the man threatening Barizca. He also tries to get the Barizcas to talk as Barry will have to make a choice if he will stay with the CHP or quit to work for his father full-time.
Vigilante: A criminal whom Getraer arrested is back and is terrorizing his family. At the same time a newly formed watch group tries to help by calling the cops when they come across a crime. But one of the members who lost a family member takes things too far.
Dead Man's Riddle: After joining the Accident Investigation Team, a psychologist fears she may have accidentally caused an accident; the CHP team recreates a crash.
A Simple Operation: When Getraer is injured he is brought to the hospital. While there and under sedation he sees someone do something to the man in the room with him. While trying to find out who the perpetrator is, the man tries to take Getraer out.
Mayday
Acorn Media/ Released 3/15/16
In a quaint English village seeped in pagan traditions, the highlight of May Day is the traditional parade. But when the May Queen, 14-year-old Hattie Sutton (Leila Mimmack) disappears shortly before the event, the residents grow suspicious that someone among them might have taken her. The shocking realization that there could be a killer in the community shatters the façade of idyllic small-town life.

The search for Hattie threatens to reveal everyone's darkest secrets. Ex-cop Fiona (Sophie Okonedo) struggles in her new role as a housewife. Gail (Lesley Manville) discovers that her husband, Malcolm (Peter Firth), lies about where he goes each day. Everett (Aidan Gillen) brings home a mysterious bag big enough to hide a body. Extras include making of and photo gallery.

Includes the episodes:

Episode 1: It's May Day and the members of a small community go about their business as they wait for this year's parade to begin. But when the May Queen – local teenager Hattie Sutton – fails to appear, several townsfolk are sent spinning by the suspicion that someone among them has taken her.

Episode 2: The day after Hattie's disappearance the locals unite to look for her, with Steve leading the search in the hope of winning favour with the girl's family, and also to conceal his worries about his brother. Routine questioning by the police gives Linus food for thought about his father, while Gail grows increasingly suspicious of husband Malcolm, so her son James goes rooting through his office for clues. Ex-cop Fiona ignores husband Alan's protests and embarks on her own unofficial investigation.

Episode 3: A devastating discovery throws the spotlight on a key suspect and forces Gail to face unwelcome facts about husband Malcolm. Caitlin and Linus's relationship deepens when she tells him a shameful secret about the day her sister went missing, while Fiona grows suspicious of Everett.

Episode 4: Linus makes a dangerous promise to Caitlin and discovers the true nature of Everett's connection to Hattie. Fiona and Alan come to blows over Charlotte's odd behaviour, while Gail's lack of forgiveness drives a wedge between her and James.

Episode 5: As the townsfolk gather for the memorial, things take a dark turn and a chaotic interruption has fatal consequences. Steve finally gets his moment with Angie – will he manage to win his family back? Fiona must face her old colleagues in a way she never thought she would, Caitlin makes an eerie transformation, and Everett and Linus have a confrontation that takes their relationship to a new level.
The Hatching
Lionsgate/ Released 3/15/16
On the death of his father, Tim Webber returns to his childhood village in Somerset to find something sinister is disturbing the idyllic peace of the villagers. As people disappear and gruesome body parts mount, the horrific truth emerges that crocodiles are hunting on the moors. As suspicion escalates, Tim is on the hook to make amends for his tragic teenage mistake years before. He'd better make it snappy though… Extras include featurette.